The Mediterranean Experience
Message from GOVERNOR MIKE HUCKABEE AND BLUE DIAMOND TRAVEL
You have not because you ASK not," says the Scripture.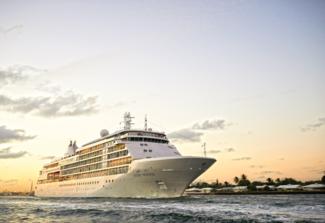 Well, you have asked us at Blue Diamond Travel to put together a cruise and now you have it! Blue Diamond Travel has partnered with Educational Opportunities Tours and SilverSea Cruises to bring you The Mediterranean Experience.
The Mediterranean Experience is an exciting cruise in some of the most scenic and spectacular sites from the Bible and from world history, and we will experience it on a new and upscale luxury cruise ship from SilverSea. We have waited to do a cruise until we felt confident we could it do it in the same inclusive and five star manner as our Israel Experiences. We will have the entire ship so you will share the experience with like-minded travelers. The ship is absolutely stunning, but is intentionally limited in space so I urge you to sign up quickly. Janet and I are excited to share this adventure with you!
Mike Huckabee
Mediterranean Experience All Inclusive Price Distinctions
Roundtrip International Airfare & Overseas Transfers from New York City (Additional baggage & optional fees may apply)
Intimate Ship for only 388 Guests
Spacious Ultra-Luxury Suites almost all with a private veranda
Butler Service in Every Suite
Open-Seating Dining throughout the Ship, including Speciality Restaurants
In-Suite 24-Hour Dining
Special onboard entertainment and programs
Shore Excursions (optional excursions available for additional cost)
Meals
House Wines, Spirits, Soft Drinks & Other Beverages
WiFi on-board
All gratuities are always included with Blue Diamond Travel Experience
Port Charges
Fuel Surcharges and Government Taxes(Subject to change)
Suite Pricing
Vista Suite $5,750* per person
Terrace Suite $5,985* per person
Veranda Suite 1 $6,595* per person
Veranda Suite 2 $6,745* per person
Veranda Suite 3 $6,895* per person
Veranda Suite 4 $7,045* per person
Medallion Suite** $8,915* per person
Silver Suite** $9,465* per person
Royal Suite** $13,155* per person
Grand Suite** $13,695* per person
Owner's Suite** $13,965* per person

ALL INCLUSIVE PRICING FROM NEW YORK*
*Rates are per person, based on double occupancy and reflect a cash discount of $295 per person. Guests paying any amount via credit card forfeit the cash discount. **Medallion Suite and above guests will receive complimentary nights of dining in the Le Champagne by Realis & Châteaux Restaurant
Cruise Details
Sept. 21 & 22 – Depart USA & Arrive in Athens, Greece
Your journey begins on your flight from the USA to Athens, Greece. Upon arrival, you will be greeted and enjoy a tour of the rich architectural splendors of the ancient city of Athens. Visit the Acropolis, the Propylaea, the Parthenon and the Erechtheum. Stand on Mars Hill where the apostle Paul proclaimed, "I found an altar with this inscription, TO THE UNKNOWN GOD. Whom therefore ye ignorantly worship, him declare I unto you" (Acts 17:23). Also see the House of Parliament, the Presidential Palace and the Tomb of the Unknown Soldier. Check into your deluxe 5 star hotel accomodations in Athens for a good night's rest.
Sept. 23 – Corinth, Greece
Explore the city of Corinth, where the apostle Paul met fellow tentmakers Aquila and Priscilla. Discover the Archaeological Museum, Market Place and Temples. As you walk among the ruins, stand on the Bema, where the apostle Paul stood before Gallio to face charges brought against him. This afternoon you will be transferred to your luxurious ship the Silver Whisper, your home for the next seven nights.
Sept. 24 – Patmos, Greece
Today you'll wake up docked on the Isle of Patmos. You will visit the Monastery of St. John, high on the mountain overlooking the island. Journey down into the Grotto of the Apocalypse to see the caves where the exiled Apostle John lived and was inspired by God to write the Book of Revelation, as well as other letters to the early church. Enjoy free time to shop and explore Patmos, before returning to your ship.
Sept. 25 – Kusadasi, Turkey
Sail to the colorful Turkish port of Kusadasi. From there you will journey to Ephesus, one of the Churches of the Revelation. In ancient days, Ephesus was a bustling port town of 250,000, graced with wide, colonnade-bordered streets. Today, you will be impressed with the excavations of the major streets of Ephesus. You will view the Library and the Agora. You will also visit the Basilica of St. John. From the basilica, enjoy a commanding view of the area. Explore the Museum of Ephesus for an up-close look at artifacts and treasures from the ancient city. Enjoy lunch in town and time for shopping before returning to your ship.
Sept. 26 –Santorini, Greece
This morning, you will tender to the Island of Santorini. Built on the edges of a volcano, its beautiful whitewashed walls and brilliant blue roofs are picture-perfect. Today you will choose between two tours. Your first choice would be to explore the Akrotiri Excavations. Enjoy a scenic drive around the island before exploring Akrotiri, which was covered under a thick blanket of ash for 3,500 years before being excavated. Walk through the exceptionally well-preserved buildings and gain insight into the ancient Minoan way of life. Your second choice today, is to explore the Highlights of Santorini. On this tour, you will drive to the village of Oia to enjoy the charms of its cobblestoned streets. Enjoy panoramic views of the Caldera and other smaller islands on your way to Pyrgos for a stop at a local winery. Your final stop is Fira. Enjoy time to shop in this quaint town before returning to your ship.
Sept. 27
Sailing at Sea Enjoy Silversea's personalized and polished service today as you glide on the beautiful Mediterranean Sea. Sun on the pool deck, relax in the spa, enjoy a show and savor the exquisite cuisine available onboard, inspired by Realis & Châteaux.
Sept. 28 – Catania, Sicily
Sicily's ancient treasures and picturesque beauty are yours to discover today. Choose a tour to Mt. Etna, a tour of Ancient Siracusa or a tour to Taormina. On the Mt. Etna tour, you will visit Europe's most active volcano, covered with cones and craters. Arrive at Crateri Silvestri and marvel at the panoramic vistas from the visitor's center. If you choose to visit Ancient Siracusa, the city where Archimedes lived, Plato taught and Aeschylus wrote his plays, you will get to see a marvelous Greek theater from the 5th Century. You may opt to visit Taormina. Drive along the Ionian Coast and arrive in Taormina. Enjoy a walking tour of the town's main street and see buildings unchanged for centuries. Visit the Palazzo Corvaia and the Greek-Roman Theatre built in the 3rd century. From the upper tier you will have a splendid view of Mt. Etna.
Sept. 29 – Sorrento, Italy
After arriving along the beautiful Amalfi Coast, travel inland and catch a glimpse of Mt. Vesuvius on your way to the famous archaeological site of Pompeii. Buried for centuries this ancient site was first excavated in 1748. You will see mansions and artwork of wealthy residents. Walk to the Forum, see the Sabian Baths and well preserved theaters. After touring, you may remain in town to explore on your own or return to the ship.
Sept. 30 – Return to USA
This morning, you will disembark the ship in Civitavecchia and be transferred to the Rome airport for your return flight to the USA. Guests may extend their time in Italy by choosing to join the Rome Extension
Optional Rome Extension - Sep. 30 - Oct. 2 - $1500
Sept. 30 - Vatican City & Christian Rome
Disembark the ship and travel to Rome. Upon arrival, visit the Vatican, and explore its museum. Marvel at the beauty of St. Peter's Basilica, and stand in awe of Michaelangelo's frescoes in the Sistine Chapel. This evening you will check into your deluxe hotel with 5 star accomodations in Rome. Enjoy a special Opera dinner this evening. (B, L, D)
Oct. 1 - Ancient Rome
Discover the history woven throughout Rome with visits to the Colosseum, the Pantheon, the Forum, Circus Maximus, the Arch of Titus, the Baths of Carcalla and the Arch of Constantine today. Climb the graceful Spanish Steps and stop at the famous Trevi Fountain before returning to your deluxe hotel in Rome for dinner and overnight. (B, L, D)
Oct. 2 - Return to USA
Bid farewell to Italy as you transfer to the Rome airport this morning for your return flight to the USA.