The Israel Experience
March 28, 2020 – April 7, 2020
My first time to Israel was the most meaningful, transformative week of my entire life!
That trip, I traveled with a group of mostly leftists as a member of "Women of Influence" in media, thanks to the Israeli Consulate General in Miami and the America Israel Friendship League who sent me. I felt safe, and I was blown away with all I saw - from the Sea of Galilee and Garden Tomb where Christ walked, died, and rose - to the Mount of Olives where He said he would return again to us! And Israel itself is a living miracle!
The markets and the old town, the Wailing Wall, all coupled with the Arab politics happening all around add to the impact. I was surprised that I never felt afraid. Not once. The Israeli Army is one of a kind -- and it changed my mind on some political fronts, forever.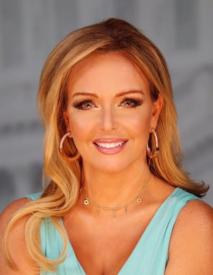 The people, the culture, the history, the FOOD, the facts and the faith. There is nothing like it. I will never be the same.
The Jewish experience struck me, too! From the thriving and resourceful industry of this tiny but mighty country in places like the Shuk marketplace that magically transforms to the thriving night spot in Jerusalem, to the new Capital (thank you President Trump), and the Knesset (Israeli-parliament) in session in Jerusalem. Masada (one of the most amazing things you will never know if you haven't been there), Gomorrah and the visible Pillars of Salt described in the Bible, and swimming in Dead Sea were some of my other favorites. But I was the only conservative, and one of theonly pro-Israel Christians on the trip. I felt very alone and there was so much I didn't get to see.
I vowed and prayed on that trip that I would go back with like-minded people. I prayed for God to find the right trip for me, where I could bring my family and closest friends and we could EXPERIENCE HIM in Israel, not only from a faith perspective, but I want to understand Israel from a geopolitical, and historical perspective.
I came home unable to even speak about what I had seen without tears. I still can't. I believe God just made it that way so we would take the initiative to GO THERE, and COMMUNE WITH HIM in person, where it all began.
But never did I dream the way the Hand of God would move next...
My friend Gov. Mike Huckabee leads groups to Israel every year and I was invited to join one of his tours. My heart leapt... I can't imagine seeing the wonders of Israel with a historian with a solid faith like Governor Huckabee who has traveled there for years. No one has the depth of understanding of the people and places in Israel, and a heart to share it with believers like Gov. Huckabee!
Each of my favorite places are on the itinerary - from the Waldorf Astoria Jerusalem, to the Garden Tomb and Bethlehem, to Masada and the Dead Sea - also many that you can't see on other trips, unless you are there with someone like the Huckabee family who have the connections to make the trip "one of a lifetime!''
As a member of this amazing group, we will stay in the finest places, enojy the most amazing meals , meet the key influencers, and travel with a group of incomparable like-minded people and possibly some other celebrities will join us- all for an astonishingly reasonable, ALL-inclusive price!
I want you with us! I can assure you... you will never be the same! Let's experience our God in beautiful Israel, together on this once in a lifetime trip! Can you join us?
I'm praying you can! And I can't wait to share this trip with you!
Sincerely,
Dr. Gina
Spring Registration 2020 - Dr. Gina Loudon
Note: Fields marked with an * are required.