The Baltic Experience 2019 With Mike Huckabee And Special Guests Rick Santorum, Al Denson, Brian White, Karyn Williams and Maurice Sklar.

Starting at $5,250* | August 9 - 17, 2019
Message from GOVERNOR MIKE HUCKABEE
I am thrilled to announce an unforgettable cruise embarking this August! After many years of the Israel Experiences and our our first Mediterranean Experience cruise, we are bringing you another phenomenal opportunity - the Baltic Experience: A Northern European Cruise of Freedom.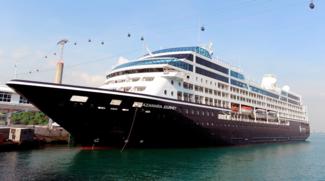 Joining me are special guests: Senator Rick Santorum, and award winning Christian Music Artists Al Denson ad Brian White with Karyn Williams.
On board the all inclusive Azamara Journey, cruise to beautiful ports of call along the Baltic Sea including Stockholm, Sweden; Tallinn, Estonia; Helsinki, Finland; and Gotland, Sweden. Plus, we'll overnight in St. Petersburg, Russia; and in Copenhagen, Denmark giving you more time in each of these ports to discover their history, beauty, and cultures.
If you have traveled with us before, you already know that all-inclusive means exactly that and there are no surprises along the way. The Baltic Experience will be no different. We've included shore excursions in all ports but Gotland. And when the weather is often unbearably hot throughout most of the US in August, we will be enjoying the cool and delightful weather that makes travel in the Baltic region perfect.
Our last cruise sold out in record time so we encourage you to get your cabin secured soon. We look forward to traveling with you soon and as always we will work tirelessly and do everything in our control to bring you The Greatest Trip.
See you on the boat,
Mike Huckabee
Cruise Itinerary
August 9 - Depart USA Your journey begins as you depart the USA.
August 10 - Stockholm, Sweden Arrive in Stockholm today and be greeted by our representatives. Board your bus and transfer to the port to board the lovely Azamara Journey. (L, D)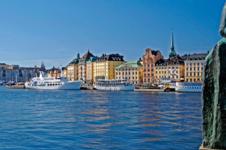 August 11 - Talinn, Estonia Set off on a narrated walk through the medieval maze that is Old Town Tallinn. Drive past ancient ramparts and soaring towers into Upper Old Town. Then, continue on foot up Toompea Hill to Palace Square, where the baroque fortress of Toompea Castle still dominates the city. Follow narrow ways to reach the Russian Orthodox Nevsky Cathedral, heralded for its golden icons and elaborate mosaics. A short walk from here lies St. Mary's Cathedral, a gothic masterpiece also known as the Dome Church. Enjoy an inside visit before continuing to a panoramic viewpoint overlooking the rustic medieval rooftops of Lower Old Town. Take a few photos before strolling to Town Hall Square, home to the oldest surviving Town Hall in the Baltic countries. Shop among the many local merchants and stop for coffee and pastries at a local café before a short drive takes you back to the port. (B, L, D)
August 12 - St. Petersburg, Russia Visit Peter and Paul Fortress, an extensive walled complex that includes the Cathedral of Saints Peter and Paul, now part of the St. Petersburg History Museum. While exploring Saint Peter's, look for the tombstones of the Imperial family, including Tsar Nicholas II and his relatives. Continue on to the Cruiser Aurora, which signaled the beginning of the Bolshevik Revolution. Proceed past the Field of Mars and the Marble Palace before arriving at the Church of Our Savior on Spilled Blood. This exquisitely decorated church was built on the spot where Alexander II was assassinated in 1881. Drive along Nevsky Prospect, St. Petersburg's main thoroughfare, past the Kazan Cathedral and return to your ship. (B, L, D)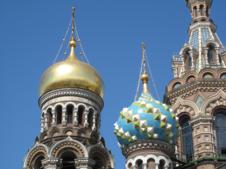 August 13 - St. Petersburg, Russia St. Petersburg is so delightful; it merits another full day excursion. Visit Peterhof—Peter the Great's opulent answer to Versailles—with its palaces, gardens and hundreds of intricate fountains. The lavish Palace has changed considerably over the decades with some of the rooms in Rastrelli's flamboyant baroque style, while others were later reworked by Velton. Enjoy a classic Russian lunch in an elegant restaurant. Enjoy a guided tour of the State Hermitage Museum, originally the palace of Catherine the Great. The museum boasts more than 2.7 million exhibits of art and artifacts from ancient Egypt to early 20th-century Europe. (B, L, D)
August 14 - Helsinki, Finland Travel through the streets of Helsinki in search of the city's unique architecture, historic monuments, and rich cultural history. Begin your adventure with a drive along the harbor, getting a glimpse of the fleet of Finnish icebreakers safely docked in the summer. Continue along down the famous Mannerheim Street, snapping photos of Parliament House, the National Museum, and Finlandia Hall, Helsinki's opera and concert venue designed by legendary architect Alvar Aalto. View the Olympic Stadium which hosted the games in 1952 and then stroll the serene and lush grounds of Sibelius Park. Marvel at the monument dedicated to the Finnish composer Jean Sibelius, created using 600 steel pipes. Then, step foot inside the stunning Temppeliaukio Rock Church, a one-of-a-kind church blasted out of solid rock. Nature and architecture meet in this magnificent building. Finally, journey to Senate Square where you can snap photos before returning to the ship. (B,L,D)
August 15 - Visby, Gotland, Sweden (On Own) Today your ship will be docked in serene Visby. You may choose to stay on the ship and enjoy the many amenities offered, or you may choose to wander this charming town on your own today. (B,L,D)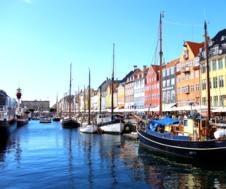 August 16 - Copenhagen, Denmark Your visit of Copenhagen takes you into the heart of the Danish capital, full of historical buildings and ancient streets. You will see the Little Mermaid and the Gefion fountain, the Royal residence Amalienborg Palace and the Nyhavn Canal with its charming outdoor restaurants and picturesque cafés, the Christiansborg Castle, the home of the Danish Parliament, the Royal Opera House, and many more sights. Enjoy a canal cruise around the city to see the Northern Capital from a totally different side. Meet the coach again and return to the ship for lunch. (B, L, D)
August 17 - Return to USA Transfer to the Copenhagen airport this morning, and begin your journey home.
B = Breakfast L = Lunch D = Dinner
BLUE DIAMOND ALL INCLUSIVE FEATURES
+ Roundtrip International Airfare & Overseas Transfers (Additional baggage and optional fees may apply; see fine print for details)
+ Fuel Surcharges & Government Taxes (Subject to change)
+ Five Shore Excursions
+ Taxes, Fees & Port Expenses
+ Smaller ship (max 690 guests) = more intimate cruising
+ Luxury cruise accommodations plus all meals
+ Complimentary bottled water, soft drinks, specialty coffees & teas
+ Complimentary spirits, international beers & wines
+ Selected boutique red & white wines at lunch & dinner
+ Gratuities for housekeeping, dining & staff
+ Self-service laundry
+ 2:1 service level onboard Azamara
+ Concierge services for personal guidance & reservations onboard
+ Complimentary Wi-Fi onboard
*Suite Guest Inclusive Features: English butler service, Complimentary bag of laundry service, Complimentary specialty restaurants dining, Afternoon tea service in-suite
Rate Information
*Rates are per person, based on double occupancy and reflect a cash discount of $295 per person. Guests paying any amount via credit card forfeit the cash discount.
Business Class airfare prices are available.
ALL INCLUSIVE PRICING FROM NEW YORK*
Interior
12 Club Interior $5,250*
11 Club Interior $5,250*
10 Club Interior $5,350*
9 Club Interior $5,450*
Ocean View
8 Club Ocean View-Obstructed $5,850*
6 Club Ocean View $5,950*
5 Club Ocean View $6,050*
4 Club Ocean View $6,150*
Veranda
V3 Club Veranda $6,650*
V2 Club Veranda $6,850*
V1 Club Veranda $6,950*
VX Club Deluxe Veranda $7,350*
Suites
N2 Club Continent Suite $8,350*
N1 Club Continent Suite $8,450*
SP Club Spa Suite $10,995*
CO Club Ocean Suite $11, 350*
CW Club World Owner's Suite $11,995*
Tours with Blue Diamond provided air arrangements include the following taxes and fees when applicable. September 11th Security Fee of $2.50 USD per enplanement at a U.S. airport (up to a maximum of $10.00 USD per round-trip). Passenger Facility Charges of up to $4.50 USD per segment (up to a maximum of $18.00 USD per round-trip). U.S. Federal Domestic Segment Fee of $3.70 USD applies per segment. A "segment" is defined as one takeoff and one landing. U.S. Travel Facilities Tax of $8.10 USD per direction also applies to flights to/from Alaska and Hawaii and the 48 contiguous U.S. states or between Alaska and Hawaii. U.S. Immigration User Fee of $7.00 USD. U.S. Customs User Fee of $5.50 USD. U.S. APHIS User Fee of $5.00 USD. U.S. International Transportation Tax of $16.10 USD per arrival or departure. Foreign Government security/tourism/airport/international transportation taxes and fees of up to $250 USD (varies widely by destination and fluctuates with exchange rates). Additional Baggage & Optional fees may apply.